So, talk about dermal fillers has been tickling your ears, but what's it all about? What can dermal fillers do to benefit you? Are you the right person for dermal fillers in the first place?
Our skincare clinic in Cardiff is the perfect place for you to find out more information and get advice regarding dermal fillers in Cardiff.
Dermal Fillers in Cardiff at our Skincare Clinic
With an abundance of knowledge and expertise, Dr Dan of Bamboo Aesthetics is the perfect clinical practitioner for you to seek advice from. Dermal fillers are a versatile treatment with many different applications – some of which may completely surprise you.
Do you want to find out more about Dr Dan? Why not take a look at his personal website here.
How do dermal fillers work?
At Bamboo Aesthetics we use a natural type of dermal filler. These are called hyaluronic acid or HA fillers. Hyaluronic Acid can be found naturally in all animals. It is used as connective tissue and contains both collagen and elastin. When used, these HA fillers adds volume to the skin giving a much smoother and rounded appearance to the patient.
As we begin to age, the amount of hyaluronic acids in the body diminishes. As a result the skin can loose volume which causes wrinkles to form around the mouth as well as indents below the eyes and cheekbones.
The dermal fillers used by Bamboo Aesthetics is biosynthetic which means that it will slowly break down and be absorbed by your body.
Where Can Dermal Fillers Be Used?
Dermal fillers are versatile. There is a huge amount of uses for them. They can help reduce deep lines and wrinkles, fill hollows, enhance sunken cheeks and smooth the contours of your face.
Areas that dermal fillers work great with include; the forehead, eyes, nose, cheeks, tear troughs, jaw lines and the marionette folds. The main aim of the treatment is to provide these areas with much improved hydration and texture of the skin.
Who Can Administer Dermal Filler Treatment?
It is mightily important that you go with a clinical practitioner who is experienced in giving dermal filler treatment. You should also be sure to discuss in detail at a consultation with your practitioner your aims and desired that you want out of the treatment. This will enable for a discussion to take place whereby you can understand the realistic outcome that you are likely to see.
There are situations where to o much dermal filler is injected. This can be at the request of the patient or due to the poor standard of doctor treating the patient. For example, check out this picture of the Olsen twins.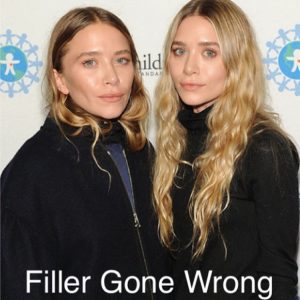 They are identical twins, yet look at the difference in facial shape between the two. In this case there has been an over-treatment of dermal fillers and this has given quite an unnatural appearance – not the look to go for.
What is the Process of  Dermal Filler Treatment?
Let's look at the steps you will go through if you decide that you want to opt for a dermal fillers in Cardiff.
Pop in to our Cosmetic Clinic
You first step will be to come in to your cosmetic clinic in Cardiff for a consultation with our Principle Clinical Practitioner, Dr Dan. Here you will be able to discuss your options and address any questions that you have about dermal filler treatments. Dr Dan will help you understand fully the possibilities and the expected results that you can look forward to after your treatment. If you are happy to proceed then we will book you in for your appointment at a convenient time.
On the Day
When you arrive on the day of your appointment you will be called into the brand new surgery where Dr Dan will talk you through the procedure. The first step is for the area to be cleansed. It is important that the are to be treated is cleansed like this to limit the risk of infection and to keep as controlled an environment as possible.
Now a numbing cream will be applied to the face. This ensures that you have a comfortable experience during your treatment.
Dr Dan will mark the areas to be treated and inject small amounts of the dermal filler to create the fuller and fresher appearance that you are looking for. The needle used in the procedure is ultra-fine. This means that minimal if any discomfort will be felt and the recovery time is kept to an absolute minimum. The treatment usually takes no longer than 30 minutes.
After Your Treatment
You will be able to see an improvement in the shape and texture of your skin almost instantly as the dermal filler starts to take effect in the treated area. After your treatment there is little to no recovery time involved. In fact, you will be able to resume every day activities straight after leaving the surgery.
In some cases there may be minor bruising and soreness at the treated areas. This will last for a maximum for 48 hours and is entirely normal.
How Do I Find Out More Information?
If you are interested in dermal fillers in Cardiff but still require more information then please do not hesitate to get in touch with us here at Bamboo Aesthetics.
If you simply have a query or if you would like to book yourself in for a consultation we will be more than happy to assist you.
Please gives us a call on: 029 2000 8630 or alternatively complete our contact form below and we will endeavour to get back to you as soon as possible.